An old man in Miami calls up his son in New York and says, "Listen, your mother and I are getting divorced. Forty-five years of misery is enough."

"Dad, what are you talking about?" the son screams.

"We can't stand the sight of each other any longer," he says. "I'm sick of her face, and I'm sick of talking about this, so call your sister in Chicago and tell her," and he hangs up.

Now, the son is worried. So he calls up his sister. She says, "Like hell they're getting divorced!" and calls her father immediately. "You're not getting divorced! Don't do another thing, the two of us are flying home tomorrow to talk about this. Until then, don't call a lawyer, don't file a paper, DO YOU HEAR ME?" and she hangs up.

The old man turns to his wife and says "Okay, they're coming for Christmas and paying their own airfares."
A guy was on trial for murder and if convicted, would get the electric chair. His brother found out that a redneck was on the jury and figured he would be the one to bribe. He told the redneck that he would be paid $10,000 if he could convince the rest of the jury to reduce the charge to manslaughter.
The jury was out an entire week and returned with a verdict of manslaughter.
After the trial, the brother went to the redneck's house, told him what a great job he had done and paid him the $10,000.
The red neck replied that it wasn't easy to convince the rest of the jury to change the charge to manslaughter. They all thought he was not guilty and, wanted to let him go.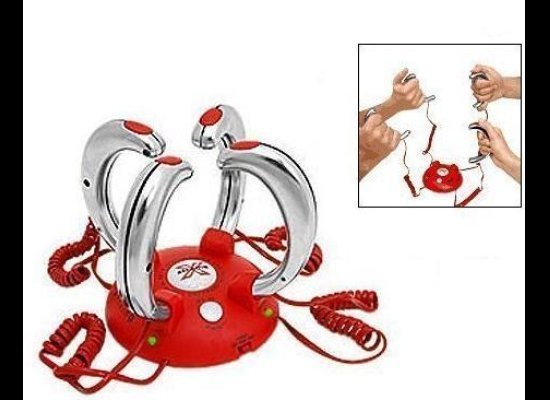 Crazy Game for Christmas
Reaction Extreme - The idea of this game is to not be the slowest person to buzz in or you get shocked.
Or, try the "Extreme" version where only the fastest player is safe and everyone else gets shocked. The point is: Electrocution = Fun.
Have a great weekend!
I am going to have a terrific weekend. My daughter is graduating with honors with a degree in applied physics.