Do you find that your current jeans just don't do anything for your figure? I find that there are so many jeans that I try on that the hip and the thighs are just so huge. These jeans are cut way too baggy and make me look larger than what I really am. I look at myself in the mirror and think, I know I am not this large. Isn't there any company out there that is sensible enough to make a jean that will fit into my hips, rear, and thighs?
Thankfully there is! Made right here in California are
SkinnyJeans
. SkinnyJeans were created just to fix the problem that most jeans have - too baggy in the hips, rear, and thighs.
What could make SkinnyJeans even better? They have introduced their Team Colors selection! Now you can show off your team spirit and look slimmer and thinner all at the same time. They have the color of jeans
of every major university and professional sports team in the USA
.
My daughter has just been accepted to the University of Oklahoma's Grad School. She is going to be a Sooner! Their team colors are red and white, and the Team Colors Medium Red will be perfect for her as she plans on attending some football games.
I wish I had known this "sooner" for I would have asked to review this color for her. I reviewed the
black Team Colors
jeans. They are truly as slimming as SkinnyJeans state. As my husband says, they are very flattering on. I really love the cut of these jeans. No bagginess around my hips, rear, or thighs, and they don't lose this by becoming loose at the end of the day.
The fabric of the jeans is soft and comfortable, has a high nylon/elastane fabric that hugs, but is still free to move with. There is an inside non-stretch pocket lining is sewn together acting as a restraining panel to flatten the stomach The pockets are perfectly positioned to not stand out and really makes the derriere look nice.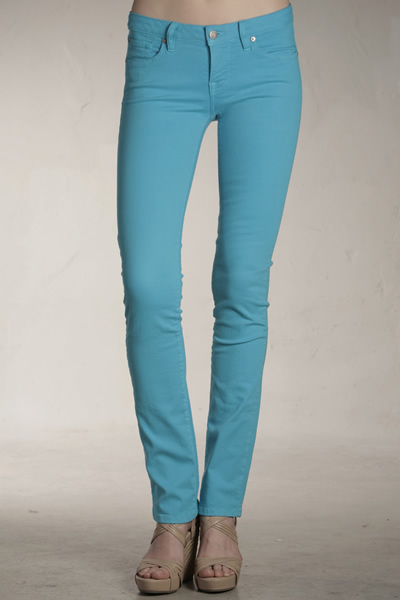 The skinny leg look is accomplished by scooping out the inseams of the pant's thighs. They also designed the pants to bring the inseam forward to create an illusion of less 'real estate' on the front of the leg. It really works, too!
The Team Colors Jeans from SkinnyJeans is ALL AMERICAN!! Fabric is American made, and the jeans are cut, sewn, and washed in the USA! These come in sizes 23/24 (00) to 31/32 (12). The price for a pair of
Team Colors Jeans
is $159. Shipping is only $9 for any size of order.
I really love my Skinny Jeans Team Colors. They look and feel terrific on!
Keep up with the latest new about
Team Colors
by following them on
Facebook
and
Twitter
. You can also follow
Skinny Jeans
on
Facebook
and
Twitter
, too.
With so many thanks to Skinny Jeans, one person is going to win a pair of Team Colors in their choice of team color and size. This giveaway will end on March 27, 2013, and is open World Wide! Only the first entry is mandatory, everything else is optional.
a Rafflecopter giveaway
No Purchase Necessary. Void where prohibited by law. Many thanks to the sponsor who provided a product or sample for this Review and Giveaway. I received no monetary compensation. I was not required to write a positive review. The opinions I have expressed are my own. I am disclosing this in accordance with the Federal Trade Commission's 16 CFR, Part 255: "Guides Concerning the Use of Endorsements and Testimonials in Advertising." This Giveaway is not sponsored, endorsed or administered by, or associated with Google, Facebook, or Twitter. Good Luck!
Tweet