I received a personalized Sweater Bear from TeddyBearsPersonalized.com for this review, and it is so darling!
I love stuffed animals. Since I was allowed only a few when I was young, I chose them very wisely. I am still choosy when it comes to expanding the small collection I have (only five). They have to have a special aurora about them that draws me to them. When I first laid eyes on the selection of Teddy Bears from
TeddyBearsPersonalized.com
, I knew I had found my next stuffed animal to add to my little collection.
Honey not included - Just Honey Bear's favorite treat.
What makes this little Teddy Bear so special to me? For one, he is just too adorable! He is so huggable and sweet. My husband started calling him Honey Bear, and the name has just stuck. The little red sweater he is wearing was personalized just for me. My kids told me to make it into a Mother's Day Bear, and to add, "We Love Our Mom." Honey Bear has a personality that just speaks out to me, and a story all his own:
Smooches from a passing bee.
Hi, My name is Honey Bear, and I love honey. Would you like to share some honey with me? I like to hug, kiss, snuggle, and make new friends. I'm so sweet, that even the bees want to make friends with me, and share a few kisses! Would you like to have a friend like me? I am just one of a number of sweet stuffed animals that come from TeddyBearsPersonalized.com. All of my friends long for love and affection from someone special - just like my new mom. We all want to say to you, "Bee Mine!"
Will you be my friend? Friendship rings included.
Honey Bear is right. There really is a cute selection of different types of stuffed animals to choose from at Teddy Bears Personalized. Right now is the perfect time to order a Teddy Bear with either a sweater or a hoodie that you can add some personalization right from the heart to say to Mom. At Teddy Bears Personalized, you have your choice of eight different color of Teddy Bears. These are genuine Limited Edition "Flying Bears" that are quality constructed and will become a lasting keepsake. There are seventeen different colors of sweaters and hoodies to choose from to outfit your bear.
Profess you love with thread!
Next it's time to pick your personalization. My kids wanted me to choose a message bear with the heart and the kisses. A name bear is another option to choose. Each bear comes with Friendship Rings and a personalized card that you choose. This would be a sweet surprise for Mom on Mother's Day!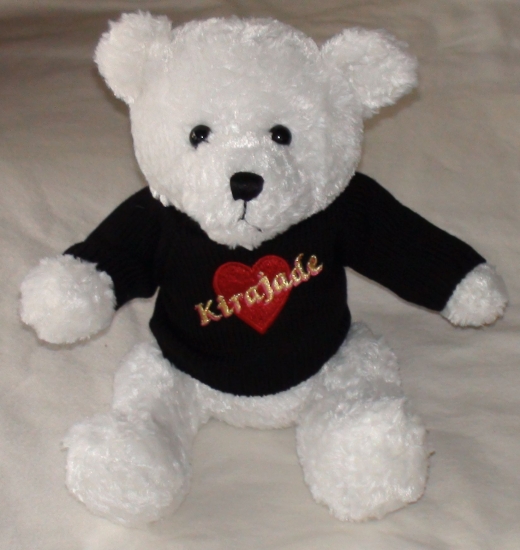 Name Bear
Personalized Card of Choice Included
The easy ordering process is not the only plus to getting a personalized bear from Teddy Bears Personalized. These bears are affordably priced! The
Sweater Bear
is genuine "Flying Bears" Limited Edition 14 inch Teddy Bear wearing a custom knitted sweater in the color of your choice (just like mine), and is only $29.99. The
Hoodie Bear
is same genuine "Flying Bears" Limited Edition 14 inch Teddy Bear wearing a hoodie in the color of your choice, and is only $32.99. FREE Shipping to anywhere in the USA.
TeddyBearsPersonalized.com is so confident that you are going to love your bear, that if you are not satisfied, they will buy it back from you!
If you have a special mom, like me or like my dear mother-in-law, that simply loves these heirloom quality kinds of gifts, I advise to order one soon. Mother's Day is fast approaching!
Here's where to order your Teddy Bear:
www.TeddyBearsPersonalized.com
. Follow them on
Facebook
to keep up with the latest news, specials, and contests, and on Twitter:
@CustomTeddyBear and @DesignaBear
With so many thanks to Teddy Bears Personalized, one person is going win their choice of either a Sweater Bear -or- a Hoodie Bear. This giveaway is open to US and Canandian residents only, and will end on May 4, 2013. The first mandatory entry is to visit
TeddyBearsPersonalized.com
, and tell me in a comment what you would love to have for yourself. All other entries are optional. Good luck!
a Rafflecopter giveaway
All opinions expressed are our own honest opinions and are not influenced by any form of compensation. If a review or giveaway is posted the product was provided for free (unless otherwise stated) by the company or PR agency. Any giveaway is free of charge, no purchase necessary to win. Giveaways are not affiliated with or endorsed by Facebook, Twitter, or Pinterest. Must be 18 or older to win. Royalegacy Reviews and More is not responsible for any prize not fulfilled by the sponsor. Royalegacy Reviews and More sometimes receives monetary compensation, gifts, discounts or other items for sponsored posts. Regardless, we only recommend products or services we use personally and believe will be good for our readers. I am disclosing this in accordance with the Federal Trade Commission's
16 CFR, Part 255
: "Guides Concerning the Use of Endorsements and Testimonials in Advertising."
Tweet