Coolibar.com sent me the Shapable Sun Catcher Hat for this review. Regardless, I only recommend products or services I use personally and believe will be good for my readers. All opinions are 100% my own. I am disclosing this in accordance with the Federal Trade Commission's 16 CFR, Part 255.
As soon as the sun rises here in the desert, the stinging rays of the sun start scorching the skin. I keep my skin as protected as possible knowing that the ultraviolet rays of the sun can have a damaging effect. What I most want to protect is my face and neck.
I have seen too many of our seasoned citizens that live here in the desert looking much older than their years. I don't want what is called "photo-aging" (looking older than what you are because of taking in too much sun) to happen to me. I don't care for sunscreens as too much of the fragrances can lead to a sinus attack for me. To keep my face and neck protected, I wear a hat.
Here's where the disappointing part is for me. For years I have been searching department stores, sporting goods stores, and just any store that carries hats for one that would offer good sun protection. Most of the hats that I see in the stores are made of straw, are baseball caps, or have small brims. These offer hardly any sun protection at all, and should be avoided!
Where can you find the best hats for sun protection? The
Sun Protection You Wear
store is Coolibar! Here you will find hats that are rated at UPF 50+. What does this rating mean? A garment with a UPF of 50 only allows 1/50th of the UV radiation falling on the surface of the garment to pass through it. In other words, it blocks 49/50ths or 98% of the UV radiation. That is superior protection!
The desert has very harsh weather. We don't get many days without sunlight, and the wind here is usually 10-20 mph daily, too. Coolibar had just the hat that suited my needs: the
Shapeable Sun Cather Hat
. With a wide generous brim of 4 1/2 inches, this shades my face, my ears, and the back of my neck perfect. The brim does have a downward slope that will protect the face and neck better during more of the early and late hours of the day besides just when the sun is shining straight down at you.
The crown of the hat is made of Coolibar's crushable packable
lite
Suntect
fabric. This fabric is incredibly lightweight, highly breathable and remarkably durable, this fine weave polyester fabric blocks UVA and UVB rays with titanium dioxide (TiO2) permanently inside of the microfibers. The soft touch of the fabric keeps you cool and comfortable. The breathability of the hat really keeps me cooler when I am out in straight sunlight and it's 110+ degrees in the shade.
Even though the Shapeable Sun Catcher Hat comes in only one size (23" circumference), there is an adjustable sizing cord at the crown. The moisture wicking sweatband with air vents in the front of the crownband does keep your forehead nice and dry.
Our desert in not only known for hot blazing sun, but also for wind. We daily have winds that range between 10 - 20 mph, and 40 - 50 mph is not all uncommon either. To keep the Shapeable Sun Catcher Hat on the head, there is a secure adjustable chinstrap. There is not need to hold onto this hat when strong gusts of win come along. It stays on firmly, and keeps giving me that sun protection that I desire and need.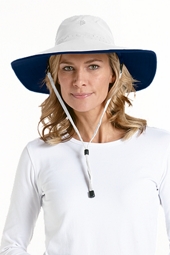 I am so happy with this hat. It has become my one accessory that goes with me everywhere here in the desert. Don't become a victim of photo aging, get a
UPF 50+ Sun Hat
from Coolibar today - Sun Hats for women, men, and children.
SAVE 20% and FREE SHIPPING
Right now Coolibar is having a store wide sale! Buy now and get 20% Off and Free Shipping. There is no minimum that you need to buy. Just enter coupon code SALE14 into the 'coupon/promotional code' box at checkout and select Standard Shipping as your shipping method.. This sale ends at midnight CST on September 1, 2014.